My name is Jacqui O'Neill and I am a confessed agility addict. It all started with one big, fast, white boxer named Jax and it has led me through many courses, national competitions, being a judge and more. This site is here to post information regarding my events – for premiums and all that fun stuff. I will share pictures of my successes and some of yours too! Just send me a photo of any titles (MACHs, PACHs, etc.) or awards you have earned under me as a judge, or at one of the trials I have been the secretary for, and I will be happy to post it for your friends and family to see.  Check out the events page for premiums and information you may really need.  I hope you enjoy the site – may the Q's be with you!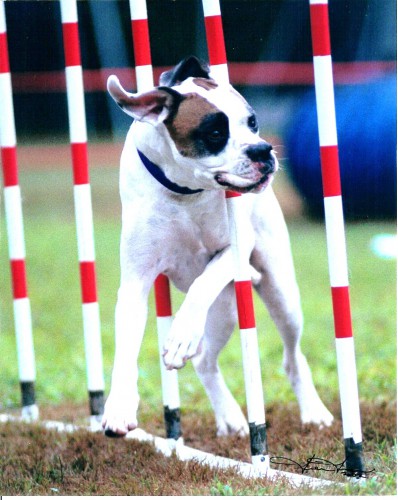 This is Jax, he was my first agility dog – a big white boxer full of heart and drive –  he was the reason I became so addicted to agility!  During his life Jax won the top performance boxer from the ABC (American Boxer Club) and won several awards for his therapy dog work.  Jax and I went to NYC after 9/11 to do therapy work with my mother and Rex (our rescue boxer, below) at the grief/rescue center.   I think of him every day with love!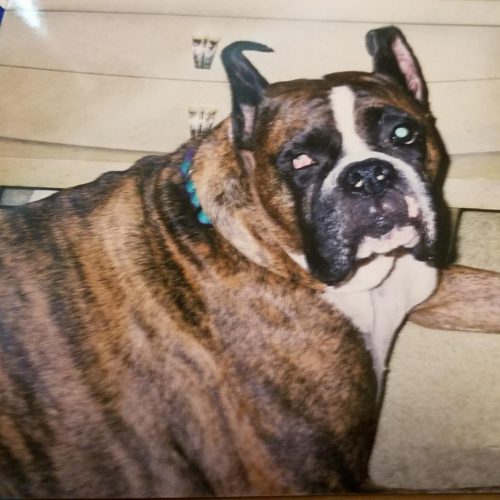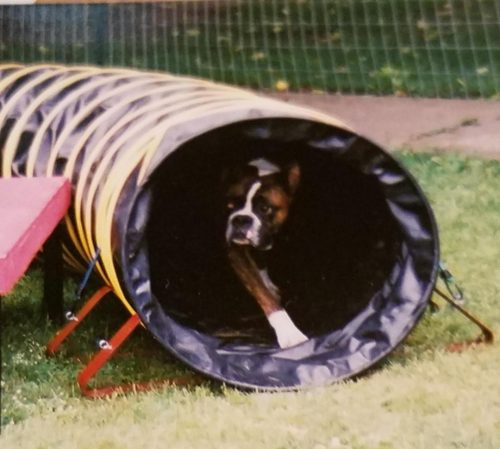 This is Rex, a beautiful brindle boy.  Rex was severely abused before we got him and had to have his eye removed, but it didn't bother him at all.  He was still sweet, loving, and always fun to be around!  He and Jax were two dogs that were definitely meant to be together.  Rex was also an award winning therapy dog who visited the 9/11 grief center in New York City with Jax.  He was also one of the top veteran agility dogs in DOCNA and NADAC competitions.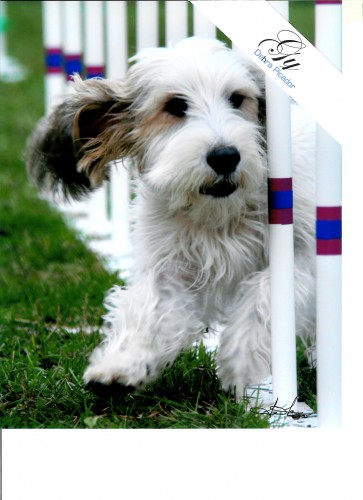 Gy was my Petit Basset Griffon Vendeen (PBGV) and he was a little speed demon.  The weaves were his favorite obstacle.  Gy was invited to the AKC Invitational every year he competed in regular classes and he came home with the Top PBGV medal every year he went.  Gy earned two MACHs and a PACH before retiring.  He is in the PBGV Hall of Fame for his career achievements.  He also did some catalog modeling in his day.  He was a great little boy and he will never be forgotten!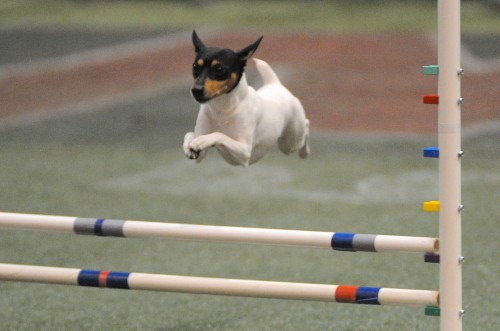 Nothing but net!  LOL   Jynx is my tri-color toy fox terrier who is a great little dog.  After a leg injury early on in life, he came back to return to agility and have a great time doing it!  Jynx is known for his happy barking along the course (that's him weaving in the header of the site).  As of May 2018, he was officially MACH13 Jynx – wahoo!!  Jynx recently turned 16 and is now retired.  Jynx has done catalog modeling, and also appeared on Animal Planet's "Breed All About It" Toy Fox Terrier show to show the audience exactly what  TFT should look like.  He is a very handsome boy!
This is HoBeaux, he was my big crazy boxer who was a real Momma's boy.  HoBeaux was a brindle boxer who loved to chase Jynx, run like a nut in the yard, and sit on your lap – that's right, all 60 pounds of muscle.   As you can see he had no problems clearing the jumps.  He loved to make me laugh and earned his first MACH at the GODC agility trial in January 2015!!  Regrettably, HoBeaux lost his battle with cancer in mid-2016 at the way too young age of seven.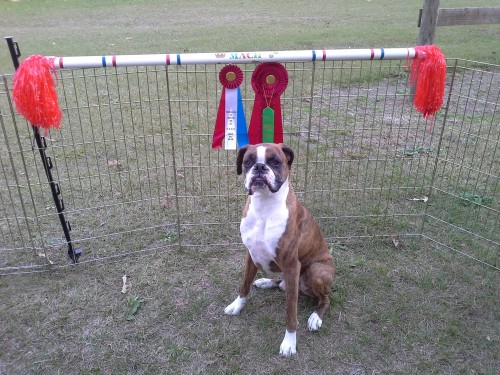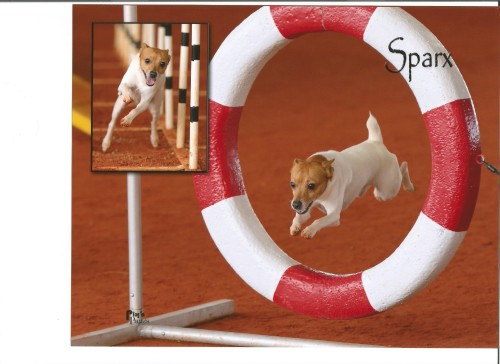 This is Sparx, my youngest TFT who is 10 years old.  He is a happy little boy who is a bundle of energy.  Sparx is not as obsessed with agility as Jynx is, but he managed to earn his Masters titles – Wahoo!! Sparx is now retired so he can concentrate on  his main job – being Mom's lovebug.
This is Gotxa.  He's now 12 years old, and another Toy Fox Terrier from Foxhill's Margi Hill.  He is Jynx's brother from another mother and Sparx's daddy, so it's all in the family.  He's a happy little boy who looks like a miniature version of Jynx.  He has fit right into the O'Neill family and can't get enough of the new boxer in the family – Axl (see below).  He has discovered his inner playboy devil and discovered that running around the yard like a nut is tons of fun!
Why toy fox terriers?  I got my first TFT for my 14th birthday, and that was a long time ago!  Now I just can't imagine a house without some.  Aren't they too cute?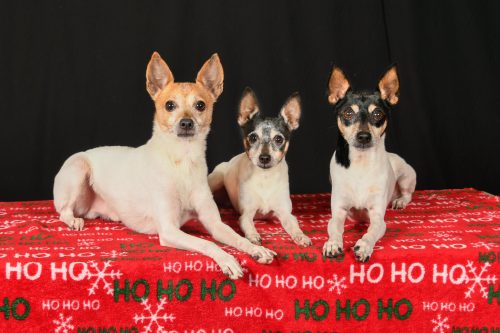 And this is Axl, the newest member of the family.  A boxer boy with the sweetest heart.  This picture is from when I was teaching him a sit-stay at 3 months, isn't he the cutest thing ever? Now at age 3.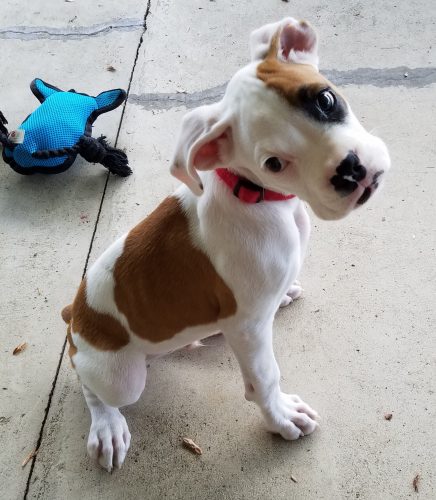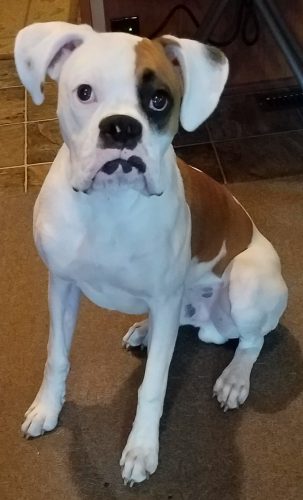 Now 3 years old Axl just earned his BCAT title by consistently running over 28 mph, and is in Masters JWW and Excellent STD – YIPPEE!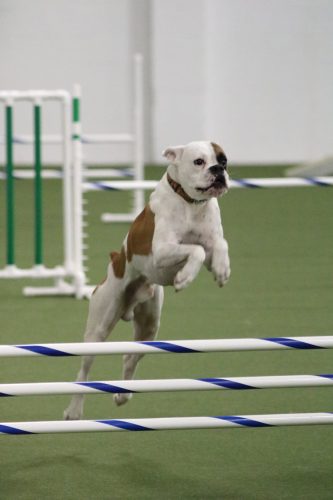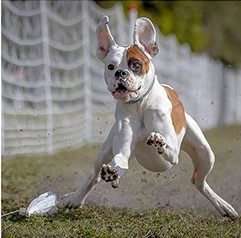 I can fly!                                                                                               100 yard dash – I LOVE IT!!!